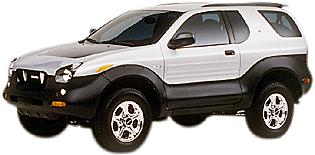 1999 Isuzu VehiCROSS
Whatever its faults, VehiCROSS has style
January 22, 1999
BY TONY SWAN
Detroit Free Press Auto Critic
Talk about cool.
It looks as though it was conceived for a "Mad Max" chase scene, or maybe as one of those never-to-be-driven concept cars we see at the auto shows every year.
| | |
| --- | --- |
| | The VehiCROSS interior |
But the VehiCROSS is for real, and it's here now, an impudent little all-terrain style statement that backs up its appearance with gratifyingly robust performance, on-road or off, through rain, sleet, snow or combinations of all three.
But there's a practical price for the style, which seems to suggest off-planet capabilities, as well as off-road.
For example, it's exceptionally noisy at almost any speed.
And the exceptionally stiff suspension reminds occupants of every lump or bump passing beneath the tires.
You can't see much out the tiny rear window, thanks to the stylish hard plastic spare tire cover that's integrated into the tailgate. The design of the rear window also precludes a wiper-washer, making the rear view instantly murky in slushy weather.
You can't see much out the tiny rear quarter windows, either. A pre-lane-change glance over the left shoulder yields a view of the seat back and the rear roof pillar. A glance over the right shoulder is only slightly better.
It's a substantial climb to the cabin, thanks to the aggressive 16-inch wheel-tire package and 8.4 inches of ground clearance.
Meanwhile, limited headroom requires the climber to duck as he or she slithers into the leather-clad Recaro sport seats. Getting into the backseat requires flexibility and a sense of humor, although it's surprisingly roomy once you're there.
Blend all that with a price tag -- almost 30 grand -- that's pretty stiff for this size class, and you've got a logical case for a below-average rating.
So why do I love this thing so much?
Number one, I love the wild styling, practical or not.
A near carbon copy of a 1993 Isuzu concept vehicle, the VehiCROSS has been on sale for a couple of years in Japan, and it's clearly intended for the youth market.
Without putting too fine a point on it, I am no longer a youth. But there's still a 16-year-old at the helm of some of my automotive responses. And that kid thinks the VehiCROSS is way cool, from the chrome fangs in its grillwork to the continental kit on the back door.
Sure, the textured matte polypropylene (a.k.a plastic) lower cladding, with its fake allen-head fasteners, serves no function other than to lend a sort of post-apocalypse industrial look to the package.
The same goes for the washboard ribbing on the doors.
We've already discussed the drawbacks of the spare tire mount, which is going to generate major repair bills in rear-end collisions.
But as an attention-getting device, the VehiCROSS is tough to beat. The only thing I've driven recently that comes close is the New Beetle.
Let's examine the hardware.
We are talking industrial strength here, folks. Beneath its cheeky exterior, the VehiCROSS employs a heavy-duty chassis revived from the old two-door version of the Trooper.
It's more massive than the underpinnings of the midsize Rodeo, and since it doesn't have to stretch very far -- at 91.6 inches, its wheelbase is 1.6 inches shorter than a Jeep Wrangler, 14.8 inches shorter than the Rodeo, and 17.1 inches shorter than the current Trooper -- its rigidity is on about the same plane as a railroad trestle.
Combined with the full-time four-wheel drive system, that chassis is also the source of a curb weight (3,950 pounds) that's extraordinary for a vehicle of such compact dimensions: 1.2 inches shorter than a Toyota RAV4 four-door, for example, and 4.9 inches shorter than a Jeep Cherokee.
Brisk performance
Isuzu addressed the weight problem in a very American way: plenty of power. The designers simply reached into the Trooper parts inventory once again and selected a 215-horsepower, 3.5-liter V6, plus the Trooper's four-speed automatic transmission.
Thus propelled, the VehiCROSS can scuttle to 60 miles per hour in less than eight seconds, which is very brisk by sport-utility standards.
But that's only one endearing element of its performance.
Another is handling that has the feel and response of a sports car, albeit a sports car with an unforgivably high center of gravity.
The VehiCROSS exhibits almost no body roll in hard cornering, and changes directions as briskly as some sporty coupes -- the Volkswagen GTI comes to mind.
Most endearing of all, given the recent excesses of Mother Nature, Michigan branch, the VehiCROSS makes light work -- fun, even -- of driving in heavy snow and slush.
The electronically controlled, full-time, four-wheel drive system is called Torque-on-Demand, and it automatically transfers power to the front wheels when system sensors perceive slippage at the primary drive wheels in the rear.
It's similar to Ford's Control Trac system, and worked very well in conditions that left a good many other vehicles -- sport-utilities included -- stranded in snowdrifts.
For occasions that demand uniform traction at all four wheels -- clambering over rocks, for example -- the VehiCROSS' four-wheel drive system also has a conventional low-range feature, engaged with a separate shift lever.
All of this, plus a short wheelbase and good ground clearance, give the VehiCROSS off-road capabilities that go beyond most of its small competitors.
I'd love to cruise this little honey through some of the red rock country of southeast Utah. The other off-roaders would take one look and call the nearest UFO center to report an alien life form.
The VehiCROSS interior is a mixture of delights and disappointments.
The red-and-black leather Recaro bucket seats, for example, fall into the former category. Lots of lateral support with long-haul comfort.
The leather-wrapped steering wheel complements the color scheme of the seats, and the carbon fiber panels adorning the inside of the doors complements the exterior.
However, the design team must have run out of budget when they got to the dashboard, a dated-looking layout that's out of step with the Power Ranger zoominess of the rest of the package.
And the lighting for the audio system is so feeble as to preclude after-dark adjustment. Some of the secondary controls could use some illumination for the same reason, while others, such as the switch for the power side mirrors, are awkwardly located.
There's also the name. No matter how often you say it, VehiCROSS is not a word that lends itself to casual conversation -- your audience is always going to say "huh?" -- and it conveys nothing of this vehicle's unique character.
How about something more menacing: Predator, for example. Or Gonzo. Berserker? Troll? Cocodrillo?
Well. Names and limited practicality notwithstanding, I suppose the real issue here is that the VehiCROSS might be financially out of step with its likely market (soccer parents need not apply).
Not many people in their early 20s are likely to step up to a $30,000 SUV, even though the VehiCROSS comes well equipped with air-conditioning, AM-FM-cassette audio, and power everything.
Then again, Isuzu doesn't plan to sell very many. The target is 200 per month, and the real goal is probably to lure people into Isuzu showrooms so they can become acquainted with the more practical and less expensive Rodeo and Amigo.
They call a product like that a "traffic-maker," and viewed in that light, the VehiCROSS has few peers.
Look for it to show up at your Isuzu dealer's showroom in March.
---
1999 ISUZU VEHICROSS
Rating: 2 wheels
Vehicle type: Front-engine, four-wheel drive, two-door compact sport-utility.
Key competitiors: Chevy Blazer, Ford Explorer, Jeep Cherokee, Toyota RAV4
Base price: $29,395
Price as tested: $29,395
Standard equipment: ABS, four-wheel drive, dual air bags, air-conditioning, AM-FM-cassette audio, leather seats, power windows, power locks, power mirrors, cruise control, tilt steering, polished aluminum alloy wheels
Specifications:
(manufacturer's data)
Engine: 215-horsepower, 3.5-liter V6
EPA fuel economy: 15 m.p.g. city 19 m.p.g. hwy
Curb weight: 3,950 pounds
Wheelbase: 91.8 inches
Width: 70.5 inches
Height: 66.9 inches
Length: 162.6 inches
Where assembled: Japan
Published Jan. 20, 1999