19?? VehiCROSS
from ISUZU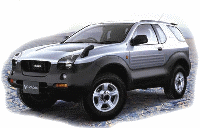 The Isuzu line of SUVs may grow larger in the US in upcoming years, with a unique model called the "VehiCROSS" - a vehicle that crosses over from highway pavement, to "Off-highway" terrain with ease.... that's the word from the release of the 93 concept car released into production for launch in Japan this year, and maybe to follow to the US soon. Some of the projected vehicle "Highlights" include:
" Color rear-view video camera with dash-mounted 5-inch monitor and TV tuner
Torque-On-Demand 4WD system automatically distributes front/rear power
Fastest engaging 4WD system available
3.2 liter DOHC 24-valve V-6 with 215 horsepower and 205 ft.-lbs torque
Variable intake manifold for improved torqueDirect Attack Valve System for better valve timing
High-flow Straight Port design for smooth response
Direct-ignition system for hotter, more reliable spark
17-inch spare with alloy wheel integrated into tailgate
First mass-produced vehicle with high-efficiency, separate-tank mono tube shocks
Integrated headlamp/side marker lamps
6-speaker stereo cassette with compact disk and mini-disk
Customer leather-wrapped Momo steering wheel
Custom Recaro seats "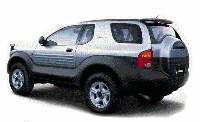 The engine specs provide 210 hp from the 3.2 liter, 24-valve, direct ignition, DOHC V6. And a special "TOD" Torque on Demand system from the "Borg-Warner Co." which senses the conditions and applies torque appropriately. The system allows for 2WD and 4WD adjusting from 50:50 4WD to 100 percent rear drive and anywhere in between, all in addition to the limited slip differential and four-wheel ABS. The suspension is set to handle tough terrain with their "front double wishbone and rear center, four-link coil suspension", which is cushioned by their unique aluminum shock absorber designed to separate oil from gas and to deliver "greater damping efficiencies by eliminating the aeration and cavitation which normally occur in conventional gas/oil shock absorber systems".
Inside the vehicle is built for high tech comfort - from the special Recaro® "Trend"® seats, to the noteable "rear-view video system" which provides the driver with a five-inch color display mounted on the dash to view a wide angle of what's behind the SUV.
If you like the looks of the "space age" high tech SUV - this is one to keep an eye on! But what catches our attention most about the VehiCROSS is that it not only looks high tech in design, but takes advantage of the latest developments and technology to really deliver the goods. When news of the vehicle making it into the US market is released, we'll let you know - and be standing in line to give it a test drive on US soil!
VehiCROSS
News Release Details
MSRP Range $???K
KII Automotive Group Copyright 1997
http://www.vmag.com/